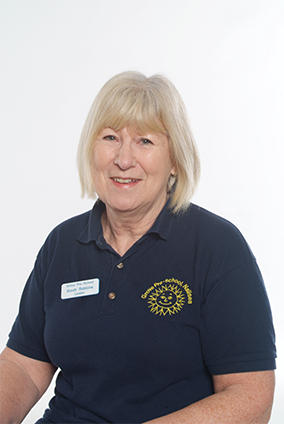 Sarah Robbins
Pre-school Leader
I joined Grove Pre-school Fundraising Committee as treasurer when my daughters were at pre-school and was soon asked to become a member of the pre-school staff. I want on to become Assistant leader a few years later and Leader in 1999. I completed the pre-school learning Alliance diploma when I first started at Grove and updated it with an NVQ level 3 in childcare in 2005. I am also the designated safeguarding officer. I have completed the Advanced Inter Agency Child Protection training. I have seen lots of changes over the years at Grove Pre-school the introduction of an outside play area, garden and our own entrance being the most notable in recent years. I love the variety of the job – not so keen on the paperwork!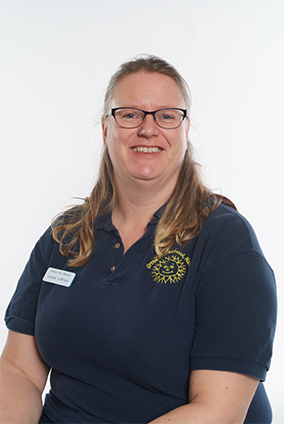 Louise Luffman
Assistant
I worked in Financial Services for 9 years before leaving to have my 2 children. While I was a stay at home mum I trained and did voluntary family support work for a charity, Home Start North Somerset. This gave me an insight into working with children. When my youngest started in reception class I retrained and qualified with a Level 3 Diploma in Children & Young Peoples Workforce, Early Years Pathway.
I started at Grove Pre School in 2013. I enjoy my job (Much more fun than office work). It's nice to wake up and look forward to going to work/play.
Kerrie Sherreard
Assistant Leader
I joined the team in 2014 after completing a B A Honours degree in Physical education and a National Diploma in sports science. I am the Home Learning Environment lead. Since starting I have undertaken many courses relating to childcare such as, level 3 Teaching Assistant, safeguarding, Paediatric first aid, Behaviour Management, and Physical Development 0-5. I am dedicated and passionate about improving outcomes for children. As a team we work to ensure children progress and their knowledge and understanding in a fun and stimulating environment. In 2018 I completed my FAQ level 3 Diploma in Early Years Education and Childcare (Early years Educator). I have completed the Advanced Inter Agency Child Protection training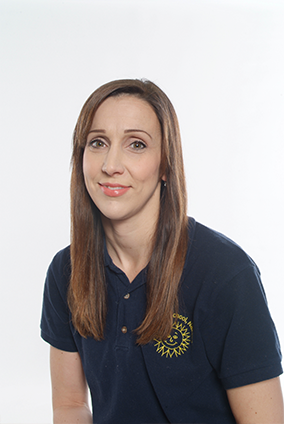 Nikki Ferguson
Assistant
I started working at Grove Preschool as a member of staff in 2016, after working as a volunteer. Prior to that I have been working as a receptionist, I have completed a PGCE in early years education. My 2 girls have both attended Grove Preschool in the last few years so it was the perfect place to go when they started school and I decided I wanted to renew my experience in early years education and return to childcare. I am thoroughly enjoying my time here.
Bryony Kemp
Assistant
I joined Grove Pre-school in 2016 after a few years of staying at home to look after my 3 children. My children all attended Grove.
I have a NVQ level 2 in Children's Care , Learning and Development and have had previous experience in nursery settings and as a child minder. I am very much enjoying my time here and it's great to get back to what I love. I hope to work towards level 3 Early Years Educator in the near furture.
Caroline Reynolds
Assistant
I starteded volunteering at Grove preschool when my youngest daughter started attending. I was warmly welcomed by all the staff and really enjoyed spending time with the children, especially in the great outdoor space we have.
I've always had a keen interest in child development and early years education so I was really pleased when the opportunity arrose to join the team in September 2017 as a preschool assistant, with the added bonus of preschool gardener! I've qualified in paediatric first aid and am currently working towards my level 3 Early years Educator. and will be attending SENCo training in the Autumn term 2019 with the aim of becoming the settings Innco.
I have completed the Advanced Inter Agency Child Protection training
Clare Trounce
Assistant
Clare is a level 3 qualified Early Years practitioner who has over 25 years of experience working in schools, nurseries and pre-schools. Clare is also a qualified teaching assistant who has experience of supporting children with a range of learning difficulties and disabilities in compulsory and post 16 education. When Clare is not working or chasing round after her three daughters she enjoys sport and fitness. She is a keen hockey player and plays for Redland Ladies most weekends.
Charlotte Cashley
Assistant
Charlotte has helped out at pre-school in the past and will be joining us for a half day from January 2020.
More details to follow